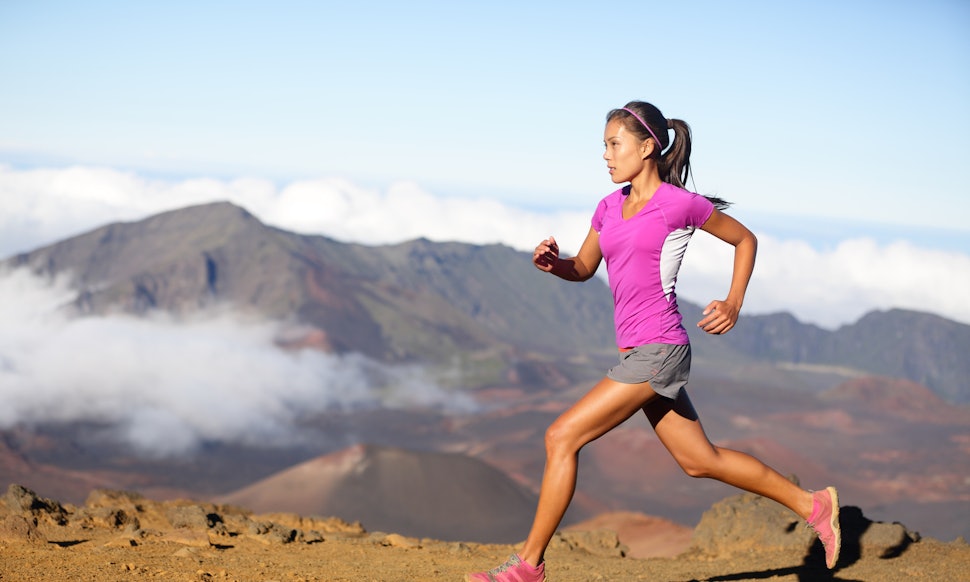 It used to be that marathons were reserved for running fanatics, thought to be a little crazy for voluntarily hitting the pavement for periods of up to five hours. But now the 26.2 mile race has moved from a certain 'crazy' idea to more of a bucket list item. I did my first marathon in 2007 (before kids), and to say it was 'hard' is an understatement. It wasn't necessarily the physical challenge that surprised me as much as the mental challenge that almost ruined me. I was not prepared. 
Preparing for a marathon is quite the physical and mental test, so it's best not to take lightly, that's why it's a good idea to take God with you and allow Him to strengthen you with every step of the way.
Here, I have compiled a list of my favorite verses for one very special, one very challenging event, and one major bucket list item that you will never forget! 
26.2 Miles with God
Mile 1: Rise up , take courage, and DO IT- Ezra 10:4 NHEB
Mile 2.I wait quietly before God, for my victory comes from him.  He alone is my rock and my salvation, my fortress where I will never be shaken. Psalm 62:1-2 NLT
Mile 3. Be sure of this: I am with you always, even to the end of age. Matthew 28:20 NLT
Mile 4: Truly I tell you, if you have faith as small as a mustard seed, you can say to this mountain, 'Move from here to there,' and it will move. Nothing will be impossible for you." Matthew 7:20 NIV
Mile 5: I can do all this through him who gives me strength. Philippians 4:13 NIV 
Mile 6: Now faith is confidence in what we hope for and assurance about what we do not see. Hebrews 11:1 NIV 
Mile 7: For I know the plans I have for you," declares the Lord, "plans to prosper you and not to harm you, plans to give you hope and a future. Jeremiah 29:11 NIV 
Mile 8:  And we know that in all things God works for the good of those who love him, who have been called according to his purpose. Romans 8:28 NLT
Mile 9:  Jesus looked at them and said, "With man this is impossible, but with God all things are possible." Matt 19:26NIV
Mile 10: Not only so, but we[a] also glory in our sufferings, because we know that suffering produces perseverance; Romans 5:3 NIV
Mile 11: But the Lord is faithful, and he will strengthen you and protect you from the evil one. 2 Thessalonians 3:3 NIV
Mile 12: So do not fear, for I am with you;
    do not be dismayed, for I am your God.
I will strengthen you and help you;
    I will uphold you with my righteous right hand. Isaiah 41:10 NIV
Mile 13: But as for you, be strong and do not give up, for your work will be rewarded." 2 Chronicles 15:7 NIV
Mile 14: "Anything is possible if a person believes." Mark 9:23 NLT
Mile 15: For he will order his angels to protect you wherever you go. Psalm 91:11 NLT
Mile 16: Give, and you will receive. Your gift will return to you in full--pressed down, shaken together to make room for more, running over, and poured into your lap. The amount you give will determine the amount you get back." Luke 6:38 NLT
Mile 17: No, dear brothers and sisters, I have not achieved it, but I focus on this one thing: Forgetting the past and looking forward to what lies ahead," Philippians 4:13 NLT
Mile 18: Search me, God, and know my heart; test me and know my anxious thoughts. See if there is any offensive way in me, and lead me in the way everlasting. Psalm 139:23-24
Mile 19: Commit your actions to the Lord, and your plans will succeed. Proverbs 16:3 NLT
Mile 20: For our present troubles are small and wont last very long. Yet they produce for us a glory that vastly outweighs them and will last forever! 2 Corinthians 4:17
Mile 21: So, whatever you eat or drink, or whatever you do, do al to the glory of God. 1 Corinthians 10:31 NLT
Mile 22: I have fought the good fight, I have finished the race, I have kept the faith. 2 Timothy 4:7 NIV
Mile 23: She is clothed with strength and dignity, and she laughs without fear of the future. Proverbs 31:25 NLT
Mile 24: But the Lord is faithful, and He will strengthen you and protect you from the evil one. 2 Thessalonians 3:3 NIV 
Mile 25: Physical training is good, but training for godliness is much better, promising benefits in this life and in the life to come. " 1 Timothy 4:8 NLT
Mile 26:2 Examine me, God from head to foot, order your battery of tests. Make sure I'm fit inside and out 3) so I never lose sight of your love, But keep in step with you, never missing a beat. Psalm 26:2-3 MSG 
Wish me luck!
XO, 
Brit